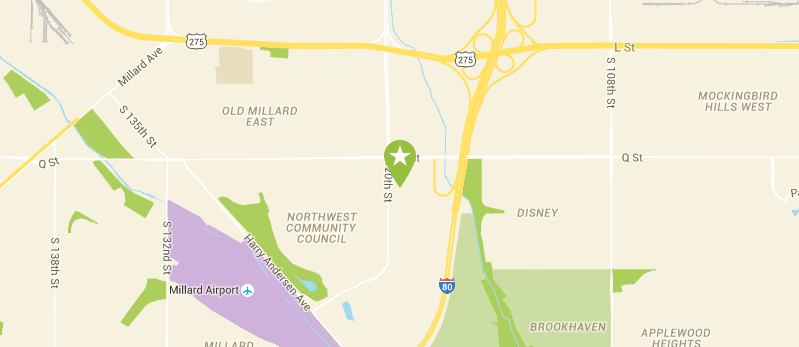 The perfect intersection.
Neighborhood comforts and big city access.
Park120 Oak Hills is nestled in the Oak Hills neighborhood of Omaha, NE. Bordering Oak Hills golf course, Park120 features amazing golf course views and the comforts of a residential feel. Its central location of 120th and Q allows for easy access to the interstate and quick travel anywhere in Omaha. Whether you are headed downtown for a night out or to Nebraska Crossing for a day of shopping, get there with ease. The Oak Hills neighborhood is also less than 5 minutes from L Street Marketplace and some of the best dining in Omaha.

Park120's central location and interstate access provides quick travel anywhere in Omaha.
Residential Feel

tucked into Oak Hills neighborhood

Interstate Access

5 mins to interstate 80

L Street Marketplace

dining & shopping

108th Street

fast food, laundry &amp gas

Roxbury / Brookhaven Park

Trails, playground, baseball & tennis

Downtown MillardLOCAL patio, bars, & dining
Access Omaha
Travel
Location
Travel
Location
5 mins
Interstate Access
13 mins
Chalco Hills Park
5 mins
L Street Marketplace
14 mins
UNO Campus
7 mins
Oak View Mall
14 mins
Village Pointe Mall
9 mins
West Roads Mall
16 mins
Nebraska Crossing
10 mins
Costco
16 mins
Blackstone District
12 mins
Aksarben
16 mins
UNMC
12 mins
Werner Park
17 mins
Downtown Omaha